last modified: Tuesday, 26-May-2009 03:44:40 CEST
Document status: construction-site
The QAPF Diagram
The chapter
Quartz as a Rock-Forming Mineral
introduced the QAPF diagram as a means to visualize and memorize the classification of igneous rocks based on their content of the minerals quartz, alkali-feldspar, plagioclase, and foids.
This chapter serves to fully assign rock types to all fields in the diagram.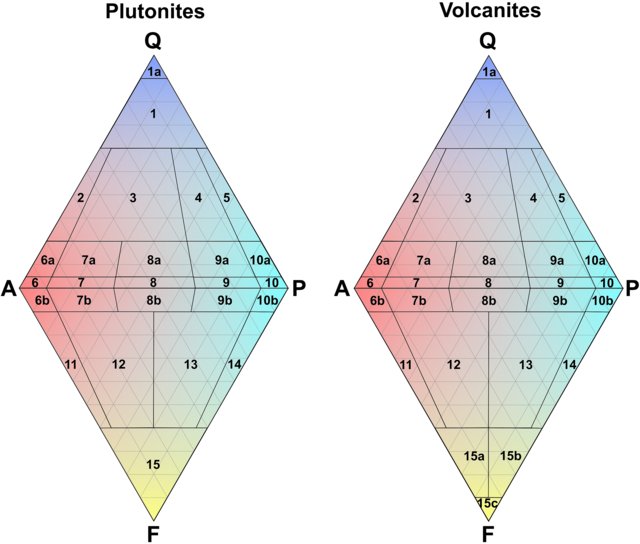 Fig.1.1: QAPF Diagram for Igneous Rocks

The QAPF diagrams for plutonic and volcanic rocks look almost the same (Fig.1.1), except that field 15 is subdivided into 3 fields in volcanic rocks, and rocks no rocks have been assigned to fields 1 and 1a of the volcanic QAPF diagram.
There are 20 "basic names", that have been marked bold in the table, and many others derived from it: for example there is:
- syenite
- quartz-bearing syenite
- foid-bearing syenite
- alkali-feldspar syenite
and so on.
That the "basic names" names have been marked bold bears no significance on the abundance of those rocks in nature, it is simply done to help memorizing the names.
Plutonic Rocks
Volcanic Rocks

1
1a
2
3
4
5
6
6a
6b
7
7a
7b
8
8a
8b
9
9a
9b
10
10a
10b
11
12
13
14
15
15a
15b
15c


Quartz-Rich Granitoid
Quartzolite
Alkali-Feldspar Granite
Granite
Granodiorite
Tonalite
Alkali-Feldspar Syenite
Quartz-Bearing Alkali-Feldspar Syenite
Foid-Bearing Alkali-Feldspar Syenite
Syenite
Quartz-Bearing Syenite
Foid-Bearing Syenite
Monzonite
Quartz-Monzonite
Foid-Monzonite
Monzodiorite / Monzogabbro
Quartz-Monzodiorite / Quartz-Monzogabbro
Foid-Monzodiorite / Foid-Monzogabbro
Diorite / Gabbro / Anorthosite
Quartz-Diorite / Quartz-Gabbro
Foid-Bearing Diorite / Foid-Bearing Gabbro
Foid-Syenite (Foyaite)
Foid-Monzosyenite
Foid-Monzodiorite (Essexite)
Foid-Diorite
Foidolite
-
-
-


-
-
Alkali-Feldspar Rhyolite
Rhyolite
Dacite
Plagidacite
Alkali-Feldspar Trachyte
Quartz-Bearing Alkali-Feldspar Trachyte
Foid-Bearing Alkali-Feldspar Trachyte
Trachyte
Quartz-Trachyte
Foid-Bearing Trachyte
Latite
Quartz-Latite
Foid-Bearing Latite
Andesite
Quartz-Bearing Andesite
Foid-Bearing Andesite
Basalt
Quartz-Bearing Basalt
Foid-Bearing Basalt
Phonolite
Tephritic Phonolite
Phonolitic Tephrite / Phonolitic Basanite
Tephrite / Basanite
-
Phonolitic Foidite
Tephritic Foidite
Foidite


---
Printer Friendly Version
Copyright © 2005-2013, A.C. A k h a v a n
Impressum - Source: http://www.quartzpage.de/app_qapf.html